There isn't a wrong answer for purchasing a dart set. They are available in numerous types, colors, and accessories, as you will learn later. You are more likely to replace the darts after the first year as you continue playing darts. The correct choice will make you feel it is an extension of the hand with the below guidelines.
what makes a professional set of darts?
·A professional dart set comes in a convenient yet innovative casing. The enclosure is magnetic, so the darts do not fall out of the casing. The feature maintains the dart structure and protects them internally from scratches. Furthermore, the foam interior is like a professional cushion for your darts. You can place the dart set anywhere without worrying.
·A professional dart set comes with a warranty from the manufacturer. There must be no replacement or exchange hassles. At any time, if the player is unsatisfied with the darts, the manufacturer's customer team must be present to eliminate all queries.
·A professional dart set does not segment a professional from a hobbyist. Therefore, it must accommodate the level of players who have liked the sport. A professional dart set will also make the perfect gift with attractive packaging and a complete box. It will make a friend for life.
·A professional dart set is manufactured with bristle fingers bound together to provide long-term use. The rings are movable, making the dartboard extend outside its hanging. Furthermore, it will accommodate all dart tip ties such a brass, steel, or nickel.
9 main dart set collections and difference
Steel-tip dart set
A steel tip dart set is used in playing bristle or sisal dartboards. These darts are constructed from nickel, silver, or brass. Nickel darts are heavier than brass; however, still lighter overall. The brass is lighter and softer than other heavy metals, making it an affordable option. Furthermore, steel dart sets look the nicest too.
Soft tip dart set
The soft tip dart set is budget-friendly and accommodates every skill level. These do not break or bend easily. The dart forms are perfect for practice and bring internal happiness when used in a game. The darts save money and perfect gift-giving, which is a huge advantage.
Dartboard set
A dartboard set is made from imported material manufactured by steel spider. The fibers are long-lasting with extended use, constructed from sisal fibers with a circumference of 18 inches. It also comes with a detachable ring that will let the players rotate the board.
Dartboard surround set
The dartboard surround set fits easily on all cabinets. These are also perfect for a professional setup since the surround set will attach and de-attach easily. It will ensure no shadow builds up even in the darkroom. The material will protect the board from stray darts and sustain direct hits.
Dartboard and surround set
Dartboard and surround set are perfect for the classic wall style. It is ideal for household members who have adopted darting as a hobby. It will protect the walls from stray throws while improving your aim too. It also comes with two side panels, one for holding the darts and the other for scoring.
Dart flights set
A dart flight set is suitable for steel tip and soft tip darts too. These are constructed for polyester material which ensures long-term use and less breakage. Furthermore, it will increase the accuracy with reduced drag and consistent airflow. A dart flight set is usually used in tournaments.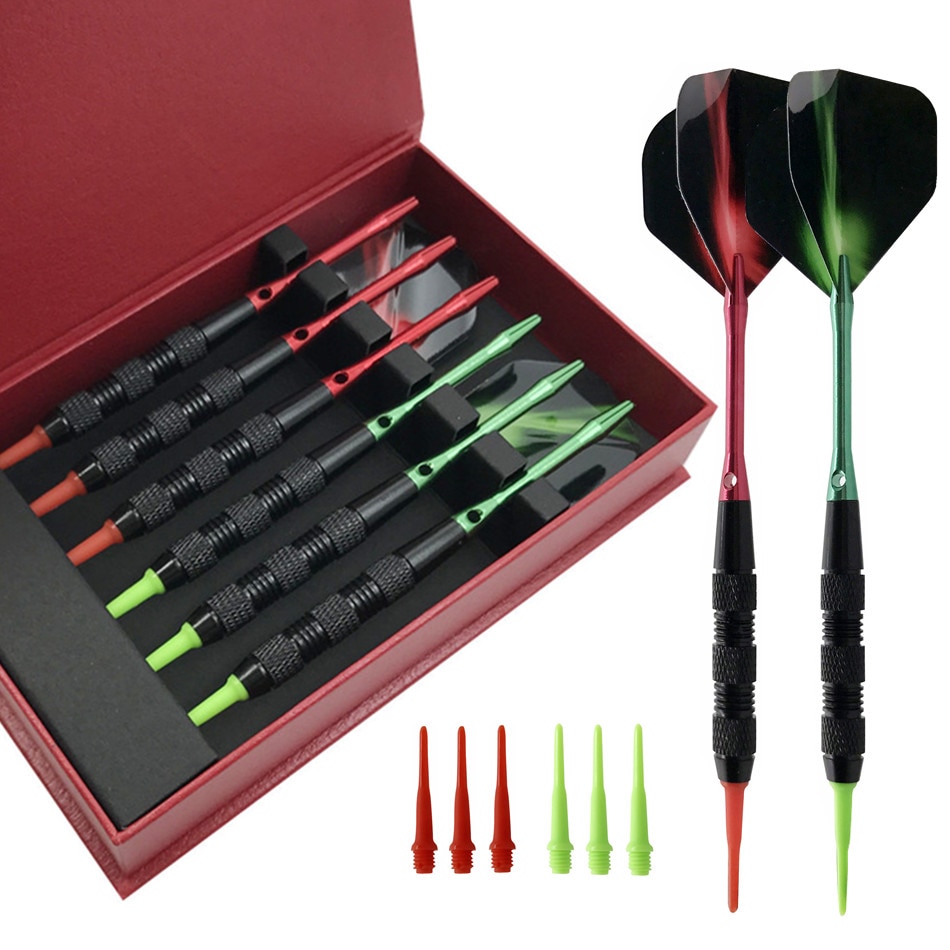 Dart shafts set
A dart shaft set is perfect to employ your personality into darting. The darts can be used by professionals and novices since the interior protects scratches from surfacing. These are mainly manufactured from aluminum which reduces their chance of breaking significantly. Additionally, the rubber rings come off loose quickly too.
Pink darts set
Do not be fooled by the color. A pink darts set will work just as good as any darts. The tips are made of plastic or steel, depending on the player's proficiency. Furthermore, the aluminum rings come off quickly without compromising the balance.
Dart cases for multiple sets
A dart case is like an extension of the darts. Each individual slot will carefully hold a single dart. Dart cases for multiple sets will carry a wide enough profile, so the darts do not break. Some cases have a convenient pocket for your phone too.
What is a good set of darts?
·You may become confused with how many dart types are present. There are nick, silver, brass, wooden, and tungsten darts. However, the most popular is tungsten use. It will maintain the dart structure by causing minimum wear and tear. It will also eliminate bounce-outs without breaking from its internal weight.
·You cannot be a dart enthusiast without experiencing the different weights of darts. These range from 12 to 50 grams. Furthermore, it is unique to see a dart that weighs more than 30 grams. Since the weight is dependent on the players' speed for throwing, a lighter dart will result in a speedy throw. Additionally, some darts weigh more at the front than the back. Try them all and see what fits.
·There are also different dart grips to choose from. While some may be smooth, others will incorporate a knurling pattern. The grips with pattern provide a stable grip and increase accuracy too. However, the player is responsible for making the final decision.
·Dart flights come in dimpled and smooth surfaces. Dimple surfaces will slow down the dart and stabilize the flight until it hits the dartboard. Therefore, we suggest trying out flight types until you discover one which makes you best at the game. Don't be afraid to make mistakes. It will only help the cause.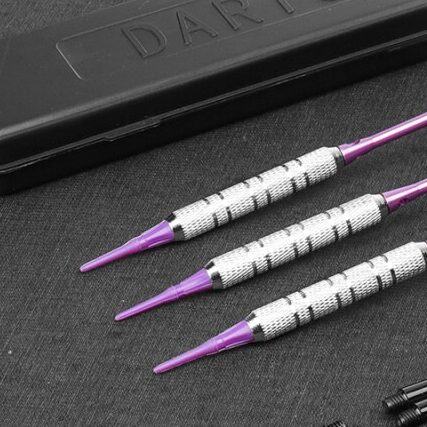 How to buy a dart set?
Now that you know which dart set to look for, making the purchasing decision will be a lot easier. Dart sets are readily available at sports shops, online stores, and official outlets. Assuming you are still hesitant regarding dart purchase, ask the salesperson to assist you.